SPOTLIGHT:
EYEDRESS

03–10–2023
Interview by
Gaby Wilson
Sari-Sari Spotlight
is an exclusive profile series highlighting Filipino artists and sharing their stories.
When Eyedress (born Idris Vicuña) was growing up—first in Manila, then Phoenix, then San Clemente, and Manila again—he never expected to have a career as a musician. Now, six studio albums and almost 200 songs later, he can't imagine anything else.

While it's not exactly clear how his single "Jealous" first went viral, at some point during the restless summer of 2020, a lot of people started to take notice, and the track became a major breakout for the multi-hyphenate artist, whose tastes were forged in the early 2000s goth and punk scenes of the Philippines and the American Southwest.

Thanks to an infectious approach to melody, a gift for filmmaking, and an unshakable DIY ethic, Eyedress and his music have struck a chord online with a generation of young people who resonate with his baldly honest, unambiguous lyrics, almost all of which he writes extemporaneously. His sound blends references to The Cure and Dead Kennedys, My Bloody Valentine and The Smiths. It's frenetic, contemplative, and pulses with otherworldly nostalgia; the kind of music you swear you heard first while playing Tony Hawk's Pro Skater or watching an old Transworld tape.

On November 8, 2020, he wrote on Twitter, "jealous vid just hit a mil holy shit," genuinely shocked by the sudden rush of attention. Just two years later, it's amassed almost 45 million YouTube views (and counting), over 420 million listens on Spotify, and continues to be one of the most popular sounds on TikTok.

Speaking to Gaby Wilson, Eyedress opens up about growing up between the Philippines and United States, lying to play in bands, crying after movies, and not becoming a nurse.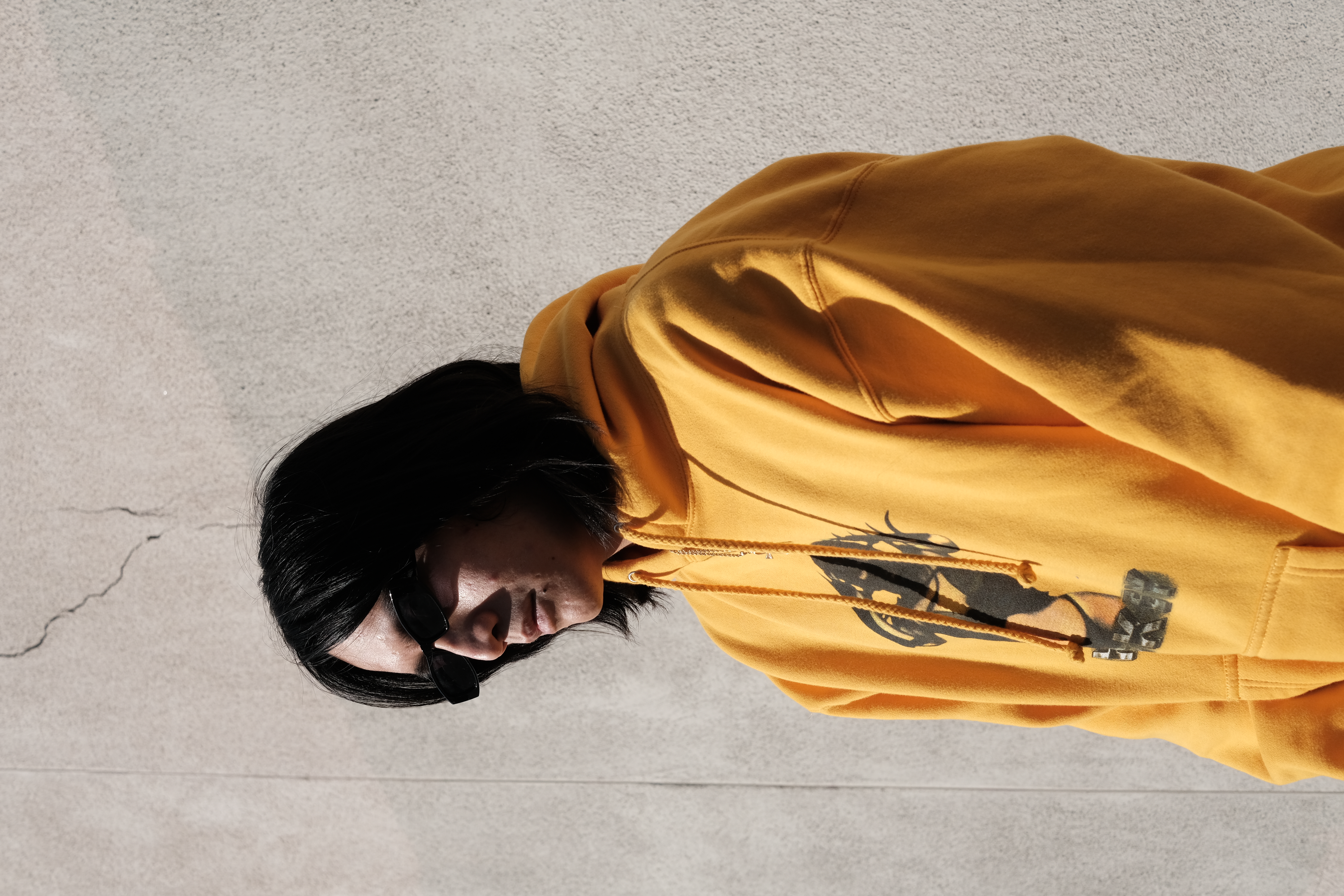 My real name is Idris, and people always would pronounce it wrong on the first day of school, so when I came up with Eyedress, I thought it was just like a good way to help people pronounce it.
I was born in this place called Cembo in Makati. It was a pretty rough kind of area by the river. It's weird now 'cause now it's like this really nice place with lots of buildings, but just on the side, I guess I was born there. Just by the river, like a real island boy. [Laughs]
I think by the time I was six, my dad got a job in America, so he's like an OFW [overseas Filipino worker]. He started working for 20th Century Fox as an animator, so we moved to Arizona. I grew up out there mostly, up until I was 12, 13 years old. And then, I moved to San Clemente, California. That's why I sound like this. I do know Tagalog, I speak fluently, but I kind of unlearned it when I moved to America. And then I became all these different types of people. Like [I] just feel, like, culturally confused, but you know… During my adult years, I moved back to the Philippines, and that's where I really found out who I wanted to become.
Once all my friends graduated college and started getting jobs, I was like the broke friend. I could afford to maybe take a taxi to them, but I couldn't eat out with them. It just became such a thing, so I was like, well, what do I do?
I lived with my parents at the time. I had a computer that was given to me, a little hand-me-down, and I started making music with it. That changed my life. Like, the moment I started recording. That's what got me my first record deal. I thought I was gonna graduate high school and work at a Starbucks. Like, I would've been cool with that, you know?
I felt almost like a brat, you know, coming from America, going to Manila, and it's like people really going through tough times. I had to really adjust to what it was like being there and facing the hardships that my people would deal with because of the government. Just everything was fucked. There's crime being committed in your face every day. You watch it on the news, and it just makes you sick. So we would just do positive stuff. There was a good community of artists when I lived out there, and there still is, I'm just not there anymore. All my friends back home are still killing it.
My dad always was like, "You can feed your family by being an artist. You just have to work hard." And he didn't even support the kind of art I made. He did support me, but he didn't understand what it was. Like, I was singing in falsetto and being androgynous, and he thought that was weird. I was just like, "Well, this is cool to me. I think the weirder it is, the more trippy it is for me." Coming from a very old fashioned upbringing, it's hard to find your voice and your place in this world.
I could never prove to my parents what my whole goal in life was until I'd get some sort of accolade from it. But then I'd be like, "Told you!"
No one really gives you that platform. You have to create it for yourself. I was just talking to my friend yesterday about how there's so many Filipinos now in music. We were like, "We should just do a whole festival!" [Laughs] We literally couldn't stop naming all the bands, and I was like, dude, this is a crazy time 'cause when I was starting out, I would always just be stoked if I found out one artist is Filipino.
"Yeah, I could never prove to my parents what my whole goal in life was until I'd get some sort of accolade from it"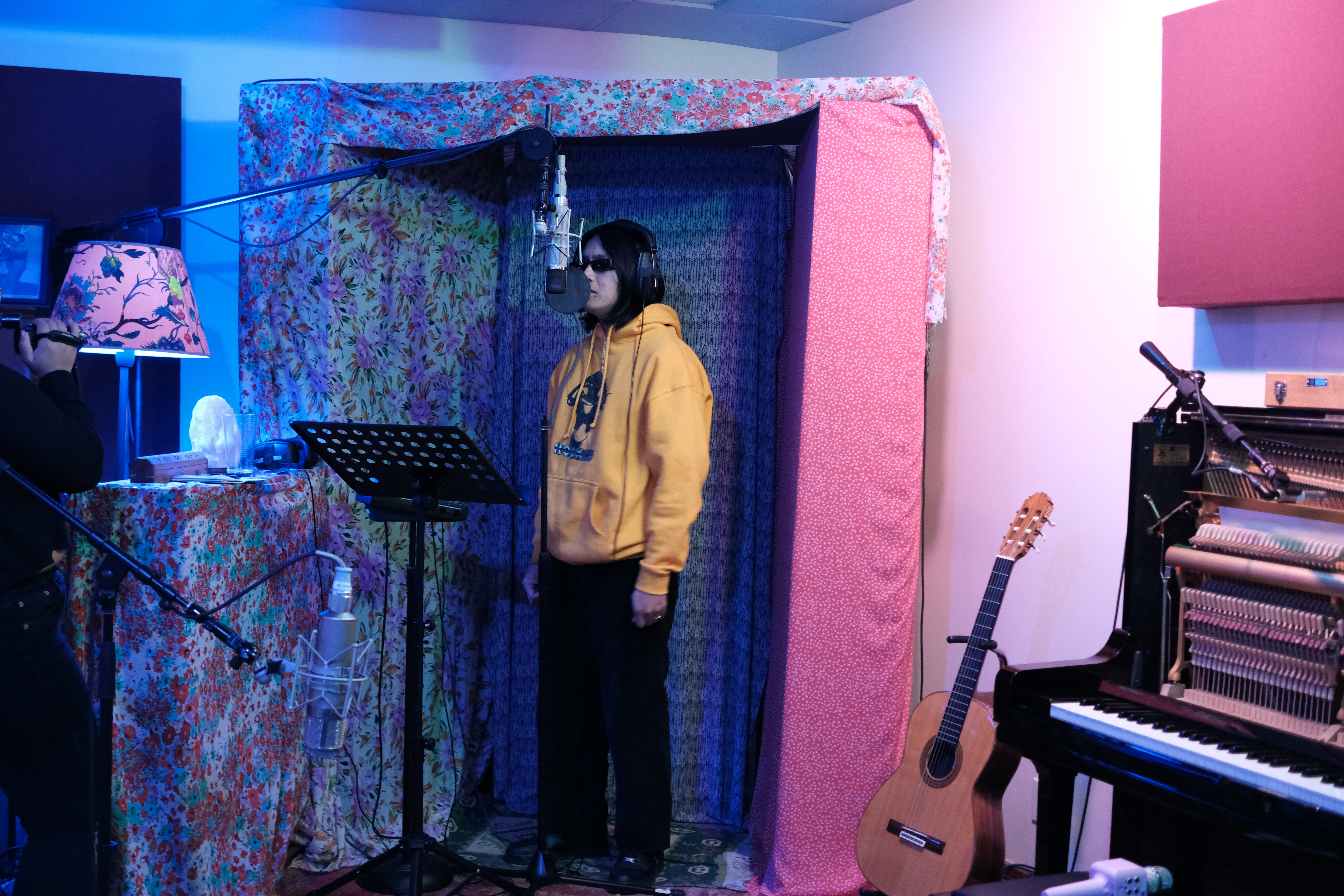 My parents listened to Nirvana, and you know, they're pretty cool. They like The Smiths, and they got me into all the cool shit, I guess. And then, it was through skateboarding that I dove deeper into music, and I found more obscure bands.
In San Clemente, there's this place called the Krikorian Theater, and it's where all the kids hung out on Friday and the weekends. I started going there and saw these punk dudes, and I was like, "I wanna hang out with these guys." I saw [them] wearing tight pants and colored hair, and I was like, "How do I, like, join you?" [Laughs] It happened pretty quick. My friend introduced me, and then, they were like, "Oh, our bassist just quit our band. Do you play bass?" I lied. I said, "Yeah," and then, I begged my dad. I was like, "Please buy me a bass." Like, "There's gotta be a bass that's not expensive."
I started going to LA, and I went to The Smell, and I just was like, I've never seen anything like this. That was inspiring. I joined one more band. It was like an indie band. They were into Modest Mouse and Built to Spill kind of indie. And then right after that, I moved back to the Philippines, and I started a band there with my best friend
Julius
.
I grew up with goths and mods and punks, and surprisingly, I found all that back home [in Manila], too. But it's not like here. Back home, the subcultures are divided by class, too. Like all the punk shows, people would say it's like squatters. But it's like, yo, these people are still kids! Like, they don't have money to go out and eat every day, but they be at the concerts turning up and having the most fun, getting dirty. That's what I miss about living out there. It gets wild.
I was crazy when I moved back to the Philippines. I was getting in lots of trouble. I was doing all types of stupid shit, like rebelling too hard for no reason, and it just ended up being like a nightmare for me. Now that, you know, I have my son. He's just like me. He's crazy. He'll just be playing the piano every time he runs into my studio, and he'll just start slamming the keys. Hopefully he'll be a musician, but I'm not gonna pressure him like most Filipino parents want you to be a doctor or something. But when my son was born, all the nurses were Filipino, and I felt so… safe. [Laughs]
I didn't get signed overnight. I would send my music to blogs and one of these blogs happened to be owned by an A&R at a label, and then, you know, I was just making music videos at the time 'cause I thought that was the way to pop off online. I grew up watching Tyler, The Creator, and you know, all that shit blew up online, and I was like, "Can I do this, too?"
When I was in my teen years, out of school and I would just be at home, I'd try to learn and watch all the old movies. There's this really good Filipino movie called
Batch 81
. It's kind of like
A Clockwork Orange
vibes. It's about fraternities in Manila, and there's like a gang war, and it's just that whole culture. I thought that was so cool. I love a lot of American films. Harmony Korine was definitely influential. And Spike Jonze. Anyone that came from skateboarding, I always gravitated towards.
I think the movie that made me want to get into, like, the whole film thing is
Enter The Void
. And,
Eternal Sunshine [of the Spotless Mind]
. Those are all pretty trippy movies. I just like those kind of weird, shocking movies. Like, I've seen
The
Human Centipede
. I don't like that, but you know, I want to see everything. Larry Clark has a lot of fucked up movies. And Korean movies are insane:
Oldboy, I Saw The Devil.
A lot of good Japanese movies, too. Yeah, I love movies.
I watched that Jo Koy film recently. Chad Hugo told me to watch it, and I actually cried. I'm not trying to be one of those guys that's like, "I just love everything Filipino!" but I gave it a chance, and it made me miss my family. I cried to my girlfriend. I was just like, "I miss my mom!" I haven't seen them since I moved here, and my dad's sick right now, so I've been holding them down.
"No one really gives you that platform. You have to create it for yourself."

There's the stuff I make when I'm sad, there's stuff I make when I'm happy, but I just always record at home even if I'm not in the studio, like doing sessions or collaborating with other artists. It's therapeutic for me. I get to get a thought out and make it listenable so you can almost touch it, you know what I mean? Like, you can hear it, and that's almost close enough to being able to hold a memory.
I'm pretty emo still. I think all those things are important though, like being aware of your emotions. As I got older, I was like, "Damn, I'm a sensitive ass dude." [Laughs] I started getting therapy and all that stuff. I had to deal with a lot of mental stuff growing up and understanding that all those violent situations that happened to me when I was a kid, that's not me. 'Cause I was never about that stuff. I was just like always skating and staying away from the troubles of my neighborhood, and it just happens, you know? Like you don't plan it. You don't plan to get robbed and jumped by two kids that got nothing to do.
At shows, seeing all the kids sing along to songs where I'm heartbroken. I'm like, "What the hell? Y'all feeling this sad right now? Okay, let's party." Yesterday, I got an email from a doctor who said that one of his patients has been going through a really hard time and that I'm her favorite artist and asked if I could send her something to like encourage her. I sent a little video, and I sent her a care package. That's when I realized my music is actually touching people in that way. I made it to comfort myself, and it's cool that it can be that for other people. Even though they're not going through exactly what I went through, it's like they can mirror it and kind of feel the same thing from it.
Creative Director/Photographer: Marielle Sales
Videographer/Editor: Jewel Sales
Writer: Gaby Wilson